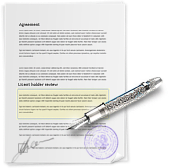 Fully licensed accounting office
Serving Warsaw and surrounding areas,
We provide service to all types of business entities, Polish and foreign.

The Accounting Office Golden Leader
The Accounting Office Golden Leader is a modern company orientated towards our client's needs. We provide a complete accounting, fiscal and salaries service for all types of business entities. Our objective is to provide professional services for Polish and foreign clients.
From the start you can be assured that our services are both efficient and professional. We are proud of the fact that we already are established and have a long association with our clients.
We serve our clients in several languages, including Polish, English, French and Spanish. We always prepare reports, balance sheets, contracts and other accounting documents (depending on our client's needs) in the above languages.
We take full responsibility for all work carried out. Thanks to our double checking system we are able to eliminate mistakes. We are licensed by the Minister of Finances to keep accounting books. We are fully insured but so far we have not needed to use it.
We represent you in front of the Tax Office and the Social Security. We will send your fiscal and social security ones via Internet. In our work we use the latest technology and up to date software, such as Symfonia.
Our best qualities are:
a high quality service
complete accounting and salaries services
customer service in Polish, English, French and Spain
full commitment towards our clients businesses
competitive prices
flexibility towards client's
Do not hesitate to contact us now!